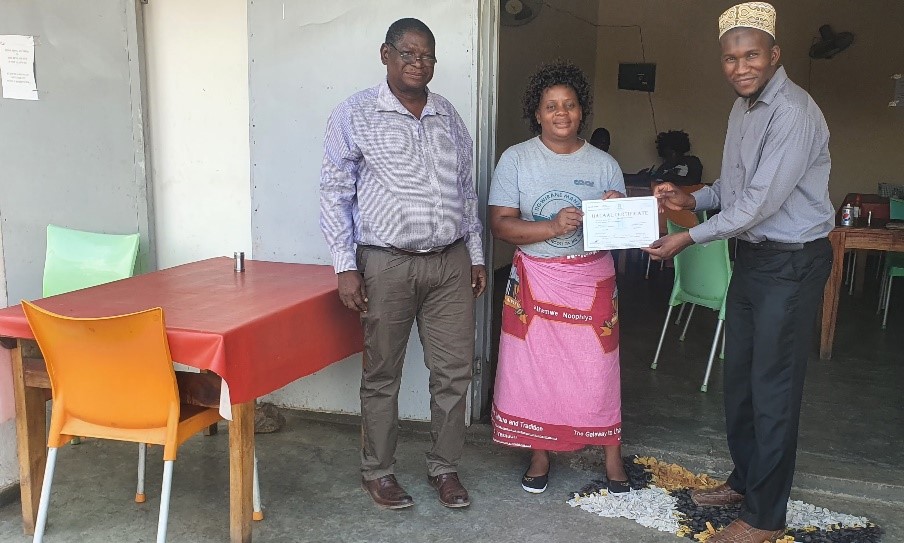 The Halaal Department (HD) has recently issued a Halaal certification to Ekohle Restaurant of Liwonde which grantees them safety of their food for consumption by everyone including Muslims. This had made Ekohle Restaurant to be one of Halaal certified restaurants in Malawi on its compliance with HD standards. The certification was presented to the Ekohle management on 12th September 2021 after an excessive and monitoring which started way back in August 2020.
In his comment, Sheikh Abdulmajid Chibwe, HD National Coordinator stated that all consumers at Liwonde area can be assured that Ekohle Restaurant serves Halaal food safe and beneficial to their healthy. He further emphasized that HD's certification of Ekohle Restaurant was based on its full compliance with all standards and practices set by the HD in accordance to Shariah which include assessment of meat and chickens sources, food ingredients, as well as processing.
While commenting on the receipt of the certification, Ekohle Restaurant Director Pastor Gulumba expressed gratitude to have finally received the Halaal certification after a full one year of HD's monitoring his business's compliance. He said that he was certain that his customers will be more confidence of his food and enjoy the tasty and experience. He said that him being a Pastor and devotee Christian he believes that Halaal food is not only meant for the Muslims but it is for everyone including Christians. He said that one major factor that one would go for Halaal food is the assurance on the food that it is of high quality and has passed through a rigid check or inspection before it is made available to a consumer. Pastor Gulumba differed with other people's perception that HD certification intends to turn Christian to become Muslims. He said that Halaal nowadays is connected with business in food industry.
The awarding of Halaal certification to businesses was done by HD officials from Blantyre during the National Quarterly Monitoring Exercise countrywide.
News source> Halaalmalawi helpline +265 881 055 711