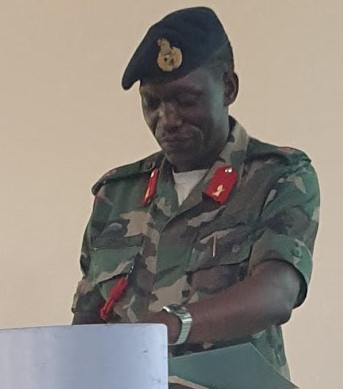 The Malawi Defense Force(MDF) had assured Muslims in the country that it is ready to support upholding of Halaal when providing food in the military as advocated by Halaal Department (HD) of the Muslim Association of Malawi. Major General Elias Mpaso said this when he presided over the first ever Halaal symposium in
the history of the Malawi Defense Force at MAFCO in Salima. The aim of the symposium was to instill and induce understandingof Halaal and Haraam to Muslim men and women in the MDF uniform.

The Major General assured the participants that the Malawi Defense Force already had a will and support to embrace Halaal in the Barracks but needed concerted effort from all concerned stakeholders. Muslim Soldiers were therefore advised not to forget their religion because of the environment they were in; rather be encouraged to strictly follow their Islamic teachings by among other things ensuring consuming always what is Halaal while maintaining discipline as soldiers. 
During the symposium, Halaal Department National Coordinator Sheikh Abdulmajid Chibwe made a presentation on the essence of abiding by Halaal. While the HD Administrator Brother Yassin Bunaya made a presentation about the Halaal Department background in Malawi. 
Further to HD presentations, participants had been drilled through a practical session on the process of slaughtering an animal. Commenting on the opening remarks made by the Major General Mpaso,Muslim Association of Malawi Vice National Chairman, Sheikh YusufChibwana asked participants to be exemplary wherever they might be at
any circumstances whether in uniform or not. He reminded them their main duty as soldiers is to protect people of this country as such Allahwill reward them. The symposium was organized by Malawi Defense Force Muslim Chaplaincy in conjunction with the Halaal Department of the Muslim
Association of Malawi.