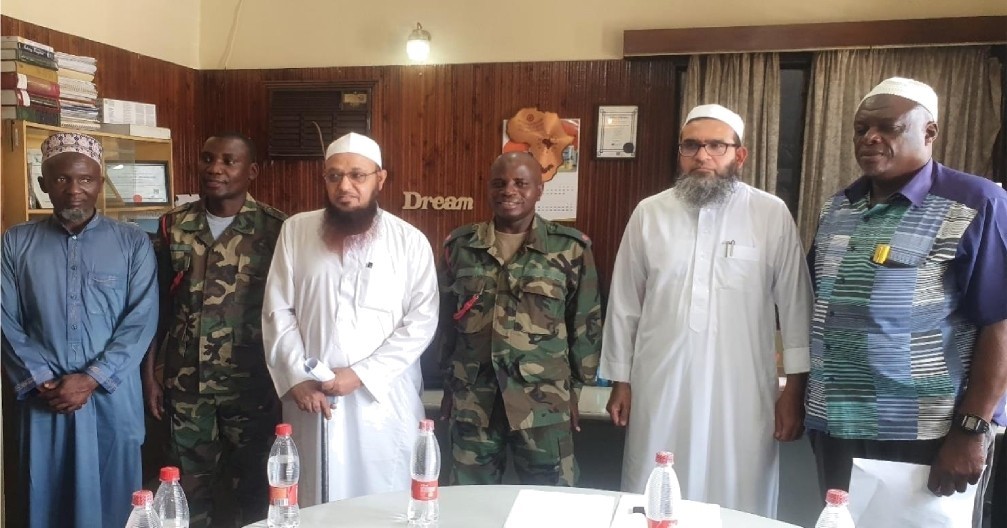 The Malawi Defense Force (MDF) Muslim Chaplain on 3rd November 2021 held a meeting with Halaal Department of the Muslim Association of Malawi executive Committee at its Head offices in Limbe.
The aim of the meeting was to present Chaplaincy's annual report on issues pertaining to Halaal and other Islamic related issues. During the presentation, Major Sheikh Saad K. Malovu thanked the Halaal Department leadership for its continuous support towards Halaal awareness in the barracks. The support has been there since 2009 to date.
Major Sheikh Malovu while commending the cordial relationship existing between the MDF Muslim Chaplaincy and Halaal Department however, he as well pointed out some perceived challenges for improvement like lack of Halaal
assurance references when out sourcing meat.
Some food additives like spices could not be verified with HD before use. Again, lack of resources for the Chaplain to visit other units within the MDF to disseminate Halaal information and offer trainings to the purchasing departments' personnel.
In response, the Director of the Halaal Department, Haafiz Faisal Kassam thanked the delegation for the visit and the report which he said was very encouraging as it will continue to consolidate the collaboration that has been there for so long. He immediately called upon all HD Supervisors in Halaal certified Abattoirs to issue Halaal references
(dispatch notes) to the MDF purchasing personnel when they come to buy meat and food staffs from Halaal certified places. He also guided the delegates to the HD Helpline number – 0881 055 711 to forward their inquiries through which responses are so quick. He further urged them to share the helpline number with all purchasing personnel at MDF. He called upon authorities at MDF as well to consider including Muslim soldiers in the purchasing committees so as to ensure upholding the Halaal standards.
In closing the meeting at the end, the HD Director assured the MDF Muslim Chaplain of a continued support in order for Muslims men and women in uniform to uphold Halaal and other Islamic values whilst in the barracks and through out their life.
The MDF Islamic Chaplaincy is an office created within the military to represent and support Muslim soldiers spiritually. Apart from offering pastoral care to individuals be it to non-Muslims, the Chaplain also liaises with military executives as well as local Muslim leaders in an effort to understand the role of religion in regard to military
life.